Beware the Flood Insurance Changes that are Coming!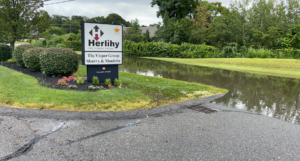 At Herlihy Insurance Group we do not have flood insurance at our location. As we look at this picture of our office though, you might think we should reconsider!
This unfortunate flood-like event was not actually a flood! It was just the result of a severe rain storm!
We will all be hearing more about flood insurance during the next month. FEMA Flood Insurance Program is making some majors changes to its program.
Effective 10/1/2021 for new policies and 4/1/2022 for existing policies, new premiums with FEMA will be based on the property's value, risk of flooding and other factors rather than simply on a property's elevations and flood zone.
If you do currently have flood insurance or are acquiring a property that will need flood insurance, these changes may impact your flood insurance options.
Each property owner who has flood insurance will be impacted differently by this. At Herlihy Insurance Group we can work with property owners impacted by this change and offer additional flood solutions from other companies.
If you or someone you know is impacted by flood insurance premium increases, check in with us!
More info you might find useful: