Decline in Life Insurance
It has been stated that the percentage of households with life insurance coverage is at its lowest level in fifty years.  Some 11 million households with children younger than 18, have no life insurance.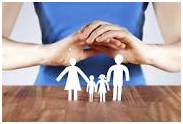 Not really sure what I can single handily do about that, but I will try!
Life insurance is purely a voluntary purchase and more times than not, people delay the purchasing decision.  I personally can relate to that!  When our children were younger my husband and I had very different ideas about who should care for them if something happened.  As a result for about 5 years when our kids were younger, no one was assigned this duty and there was NO life insurance.
My husband and I eventually agreed on this sticking point and we made our life insurance purchases.
I know other friends that procrastinated on their life insurance and then were not able to obtain what they wanted due to a decline in health!
Why should you buy life insurance?   I am not sure.  I can just tell you the top seven reasons why I bought life insurance for our family.
Replace Lost Income
Cover Burial Expenses
Pay off Debt
College Planning
Estate Taxes
Business Planning
Peace of Mind
Maybe your family is similar to mine and maybe it is not.  Whatever the case, please take the time to review your life insurance options! If you are like most people, you will enjoy the Peace of Mind once this is secured.
Know more for Life Insurance Click Here ?