Jewelry
Summer Time Jewelry Woes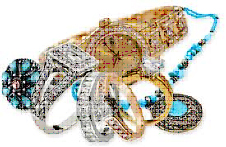 As we are relaxing on the deck enjoying a hot and humid late Saturday afternoon, Tim says, "I have a question about my friend." I always love questions about friends. It seems that I always learn some thing any time that I am asked a question about a friend.
In this case the question involved stolen jewelry. It seems that Tim's friend was away on vacation and the friend's home was robbed. The thieves got off with at least $20,000 of jewelry. The question to me was, "The insurance company says they are only covered for $1000 of this. How can that be?"
Unfortunately for Tim's friend a standard home insurance policy with NO additional jewelry coverage added does have specific limitations for a theft loss of jewelry. This limitation for loss by theft starts at $1000. Depending on your home insurance policy this theft limitation may be as high as $2500.
The interesting thing is if the jewelry had burned in a fire, it would have been covered for its value. However, when jewelry is stolen all home insurance policies have limitations for the amount they will pay on claims for theft of jewelry items.
What should jewelry owners do? Call or email your insurance agent and check on your home insurance coverage for your jewelry. Ask your agency about "scheduling" specific jewelry coverage for your more valuable items. Typically the cost to add additional jewelry coverage to a standard policy is about $16 per $1,000 of jewelry value. For Tim's friend that would have been $320 of additional cost to protect that $20,000 of jewelry.
I am the first to admit that jewelry and how you chose to insure it is a personal thing. I have the jewelry that I consider valuable and then a bunch of other stuff. Do I really want to insure that sapphire ring that I got when I was eighteen? Although I do not want a thief in our house, I would not replace that sapphire ring, but my wedding ring? Yeah, I think that one would need to be replaced.
Many of our clients will say, "I really don't have any valuable jewelry". If that is the case for you, then no need to worry about a jewelry theft. Just do me a favor if you are reading this, go home and take a look around. Put all of your jewelry in one pile.
Ask yourself if a check for $1000 would be sufficient if all of that was stolen. If your answer is yes, then you are all set. If your answer is no, then give your insurance agent a call today.