Take another Look at Trusts!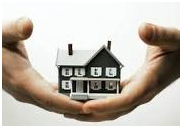 This week I was assisting a sibling with a question on flood insurance.  Well technically I did not do the assisting.  Our Herlihy Group Flood Guru answered the question, but during these conversations we were reviewing an individual's home info.  As we reviewed the client's options we noticed that not only had the street number of the home change but also the ownership!
The story is a trust was created years ago and this property was transferred into that trust.  The issue is that the property owner forgot to change their insurance policy to name the trust as owner.
The key challenge with homeowners insurance and trusts comes from the nature of insurance. When you purchase a homeowners policy, you might think you are insuring your home, but you aren't. You're insuring yourself (or whoever owns the policy) against something bad happening to your home or at your home. When you throw a trust into the mix, you end up muddying the picture of who is insured and who isn't.
Since each property and trust is different we suggest that you review your insurance to make certain that both the trust and the individual have the property and liability protection that they need.
Questions? Trust Us at Herlihy Insurance Group!  We can figure it out.