Pssst! When you have a moment, would you please let us know??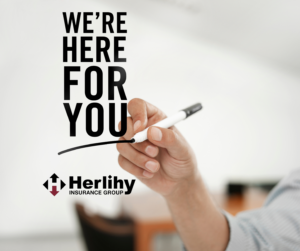 At Herlihy Insurance Group, we want to be here for our clients.
Herlihy Insurance Group team members are your local insurance experts that live, work and volunteer in our local community.  As we enter our 96th year as part of this community, we know the times have changed!
Over the years, we have learned that this means different things to different clients, and that is what we want to get right in the New Year!  We are hoping you can help us improve.
With that in mind, we would like to share all the ways you can reach out to us for your insurance needs!
Call us!  Our team answers the phones from 8am-4:30pm, Monday through Friday. Our main number is 508-756-5159 and your account managers or sale person all have direct lines!
Text us!  Yes, we are available by text! Just message us here: 508-500-8742
Sign-up for your Herlihy Group Client Portal!  Benefits of this secure client portal:
– We can store current policies for your review
– Secure email access to your account manager
– Quick Links to pay your bill or report your claims
Reach us via our After-Hours Call Center!  Yes, we do have Herlihy Group representatives taking client calls after hours and on weekends! We are committed to always being here when you need us.
We are hoping that these options and servicing tools assist us in taking care of your needs. However, we know one service style does not fit all, so if you have a preferred service style, please don't hesitate to share that with us!