These Holiday Days Remind Us: 'Tis the Season!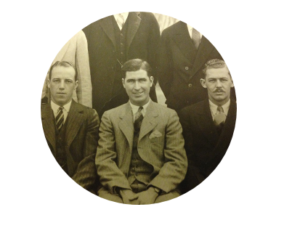 Photo from 1927: James J. Herlihy (middle) at the founding of
The James J. Herlihy Insurance Agency AKA The Herlihy Insurance Group
It has been quite a year filled with new challenges and new opportunities. We wanted to take a moment to remember……
'Tis the season to be Jolly!
At Herlihy Insurance Group we are all ready to enjoy some Christmas and New Year holidays with family and friends. While we are celebrating we will have our 24 hour call center standing by to assist you, our clients.
'Tis the season to be Thankful!
As we look back on 2021, we at Herlihy Insurance Group are THANKFUL!  The list of things for which we are thankful is long, varied, and definitely different for each of us.
'Tis the season to be Hopeful!
As we get ready for 2022, we look forward to the new year and the new opportunities we will share with our clients, prospects, friends, and families.
As we get ready for our 95th year in business, we wish you and your family a Merry Christmas and a Happy Health New Year! ❄️️?✨