What do hurricanes, wildfires and tornadoes all have in common?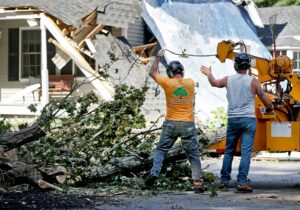 These significant events are affecting the cost of home insurance across the United States. I am sure you have read the news about All State and State Farm no longer providing coverage for some homeowners in California. Here in Massachusetts, our agency is thankful that our insurance companies have not deserted our clients.
We know all homeowners want to have a competitive price and excellent coverage. Here are a few things to consider:
• One other factor that we suggest all home insurance buyers review is the financial stability of their home insurance company. Sometimes the cheapest coverage is cheap for a reason, and you want to make certain that your home insurance is with a financially stable company that can pay its claims.
• The coverage you select on your home insurance policy is critical. Not all policies are the same. We suggest a side-by-side coverage comparison when reviewing options. Can you cut costs by eliminating certain coverages? Absolutely! Just check that you understand what you are cutting!
• Reviewing all available company and credit options will be more important this year. Please note that most home insurance carriers do use "insurance score" which means they do run credit type checks to determine pricing on some policies.
Yes, we know this is a LOT! That is why we at Herlihy are here to help! Call us, email us, text us and let us know that you would like a home insurance market review. We think it is worth your time!
Photo credit: Boston Herald