Worcester's Soaking
Last week Worcester was drenched on Friday night.  Reports indicated that more than five inches of rain fell on the city within a few hours.   Here is a view from one city street!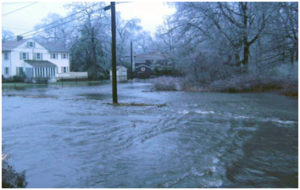 Although we hated the storm we do LOVE that this gets people talking about Flood Insurance and Coverage for Backup of Water and Sewer.
Flood Insurance is not included on standard property insurance policies.  This is a  coverage that needs a separate policy.
Coverage for Backup of Sewer and Water can be added to most standard property policies.
Here is a great link from the City of Worcester that reviews suggestions for residents to review regarding preparedness for area flood events.
One of their steps is:
Talk to your insurance agent about your coverage. Check out flood and sewer backup insurance.
We love to talk to our clients about this!  Every property owner decides what additional coverage is right for them.  You may purchase flood and or Back UP of Sewer and Water Coverage or you may decide not to.
We just want you to know about these options!
How high would the 100 year flood be on your building?  Consider where you live, what bodies of water are near you and decide if you would like more info on Flood!