Dinner Conversations at the Herlihy House: The Cars you Drive and Why it Matters!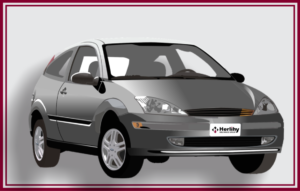 It was dinner time at our house again and as my daughter detailed the events of her day, we began a conversation discussing her using a company car for attending a monthly meeting.
Yes, this does sound like another boring dinner discussion but we did review a few items that ANYONE who has a Massachusetts car insurance policy and uses a company car should review.
Your Massachusetts car insurance policy definitely has an EXCLUSION for using a company car for regular use. So the issue (as my daughter now knows) is if you are driving another car REGULARLY  that is not listed on your policy, your policy coverage will not extend over. Sounds a little confusing, but here are a few examples:
NOT REGULAR USE:
You rent a car on vacation . Your liability coverage will go with you.
With permission , you borrow your friend's car to go to the store for one trip. Your liability coverage will go with you.
REGULAR USE:
You use your assigned company car on the weekends. Your liability coverage will NOT go with you.
So if the cars listed on your policy are the only ones you drive regularly you are all set. But to solve the company car issue, we just need to ADD " Use of Other Auto coverage" to your current Massachusetts policy, which costs about $60 for the year. This coverage would also be necessary for any other vehicle you would consider driving regularly.
The other question that we are always asked is, "what is considered regular use?". To date, there is no defined response to this, so if you are not sure, just check in with us and we will get you the official response from your car insurance provider.
As for my daughter, she is now going to Uber.  So stay tuned for our next dinner conversation about Uber and car insurance in Massachusetts.
Contact Us:
info@herlihygroup.com
1.888.756.5159
Herlihy Group – Here to Help!