Snowmobiling this Winter Season?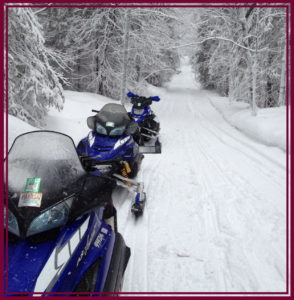 Snowmobiling is a risky winter sport for a number of reasons. The speed these machines can travel, the fact that trails can be multi-use, and the high likelihood of compromised visibility can make snowmobiling tricky. Snowmobile insurance is not required in every state, but it is mandatory in some states, and in some parks and recreation areas.
Each year we have a few clients that get into snowmobile accidents! Sometimes these accidents are very serious with serious injuries while other times they are just simple sled damages. Either way, these clients know the value of specific snowmobile insurance and how it can protect them from financial hardship.
What Does Snowmobile Insurance Cover?
You can buy specific coverage for your sled, such as liability only coverage, or you may be able to buy a package. Accidents that occur to your snowmobile or damages that are caused by the use of your snowmobile will not be automatically insured on your own home or car insurance policy.
So whether you are renting a one at a park or buying a new one for this winter, check in with us on your insurance options! We represent a number of companies that offer this insurance.
Let us know if you have any questions! We would love to provide you with more info on this topic. Safe Sledding!
Contact Us:
info@herlihygroup.com
1.888.756.5159
Herlihy Group – Here to Help!