Dinner Conversations at the Herlihy House: The just-married insurance checklist!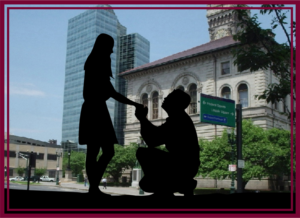 Another dinner and a brand new conversation at our dinner table. The proposal was made. The date is set and we have another "splitter ".  In our house two people getting married means there is another splitter in the group! Before we get to that , we know that insurance is one of the last things that the newly engaged want to chat about, but here is a quick checklist anyways!
Homeowner's or renter's insurance.
If you've just moved in together, it's important to purchase a shared insurance policy to cover all of your possessions. Both of you should be listed as named insured on your policy.
Any new jewelry items like engagement or wedding rings should be specifically scheduled on your home or renter's policy. Don't forget to add other valuable items as well.
Health insurance.
Now that you're almost married or living together, it's a good time to compare health insurance plans. You may each have different options available through your employers. Review the different plan coverage and price options and gather the details of how and when you may update your coverage selections.
Auto insurance.
Chances are, now that you're married or living together, you're likely to drive each other's cars from time to time. Add your partner to your auto insurance policy as a permitted driver, and vice-versa. Adding a second driver to your auto policy wouldn't raise rates on each car as long as the other driver has a good driving record.
This is also the time to review the limits of insurance you have selected. We suggest your optional bodily injury limits should be at least $250,000/$500,000 and your property damage limit at $250,000. This may also be the time to review the offering of a Personal Umbrella Policy
You and your partner may also be eligible to save money on auto insurance by "bundling" insurance policies. If you've previously purchased car insurance through separate providers, consider switching to your partner's provider in order to be eligible for a multicar discount. If you purchase home insurance and other products through the same agent, your discount may be even more substantial
Life and disability insurance.
Life insurance is an important consideration for times when one partner would struggle financially without help from the other partner. If you've just purchased a home together or share other significant debts, it may be a good idea for both of you to purchase life insurance. If you do have life insurance in place do remember to update your beneficiary info as well.
Disability insurance is another overlooked option. The facts show the change of becoming disabled are three to five times higher than death.
Reviewing any beneficiary assignments.
Reviewing any beneficiary assignments on any policies, 401k or other retirement plans is also advisable. Chances are you may want to update with your partner information.
We are always here to answer any of your questions regarding insurance. Changes in life typically do result in updates to insurance and other financial things!
Now back to the " splitter". At our house a "splitter" is one who now has to SPLIT the holiday visits. We suggest you review "splitting fairly" guidelines and keep all Moms advised of holiday updates.
Contact Us:
info@herlihygroup.com
1.888.756.5159
Herlihy Group – Here to Help!