Hurricane Ian Reminds Us!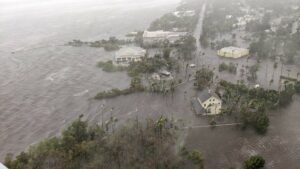 Mother Nature can be brutal!  As we watch the devastation caused by Hurricane Ian, our thoughts and prayers go out to all those that are affected by this disaster. We are so thankful that many heeded the warnings and evacuated.
In our office, we are working with business partners in Florida during this week. It is awesome that they are able to evacuate, relocate, and continue most of their business as usual.
As we watch the pictures and videos, we cannot help but think, 'I hope they had the right insurance and enough insurance.'  Rebuilding from such a storm will be challenging. Not having the right insurance to rebuild would be a nightmare.
Although here in Central Mass we will most likely not have the rising flood waters across a complete city or town, we could still have flooding – especially if you are near a body of water.  Not just the ocean floods properties! Do check on your own flood zone. We like to recommend:
First Street Foundation for this. : Flood Factor – First Street Foundation
As for your property, rebuild values is where you need to check your limits of insurance and check in with area rebuild costs. (Yes, they are soaring)
Do we sound like a broken record? Why yes, we do!  However, we think this is worth repeating. Your insurance coverage and your insurance limits are worth a review. Check in with us when you are ready!
Herlihy Insurance Group will be supporting the Hurricane Ian Relief effort with a monetary donation.
Photo Credit: www.wtsp.com, 10 Tampa Bay | Photo shows damage in Fort Myers, Florida