It Came from Beneath the House!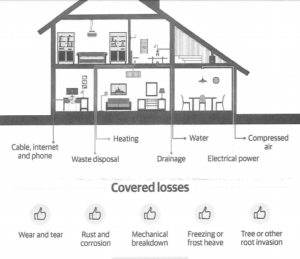 Did you close that Home Insurance Coverage Gap?
Many clients are not aware that they may be responsible for the pipes and lines under their property. During the past few years home insurance offered and additional coverage called Service Line.
This additional coverage may cover losses for damage to water , sewer, communication or electrical service lines caused by freezing and frost heaves, tree or root invasion, rust and corrosion and mechanical breakdown.
This coverage is limited to the part of the service line that runs from the main connection to the service to your dwelling.
My favorite part of this coverage is that it is extremely reasonable. The cost to add this when available is only $35 for the year.
It is important to note that not all companies offer this coverage and the types of losses covered due vary by company. This is definitely a coverage worth checking out!
Contact Us:
info@herlihygroup.com
1.888.756.5159
Herlihy Group – Here to Help!