Golf Carts and Your Insurance!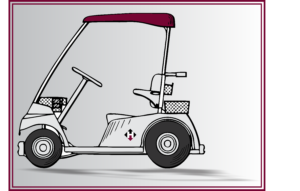 Its that time of year again when many take out their golf carts! I remember the days when golf carts were only used on golf courses. Today we see all kinds of golf carts in many different places.
If you own a golf cart, your home and car insurance policies will not provide you with the insurance protection you need. Although golf cart insurance is not required we suggest that golf cart owners do check out this inexpensive additional insurance.
The typical golf cart policy may be designed to provide you with the following type of insurance protection:
Liability Coverage. This broad coverage is meant for accidents involving your golf cart (the coverage is for third-party injuries and property damage).
Medical Payments Coverage. Hopefully never needed, but always important, this coverage pays for the necessary medical care you receive as a result of a golf cart accident.
Increased Limits. You can choose the limits that you want on your liability.
Collision Coverage. Regardless of who is at fault, this covers your golf cart in the event of damage caused by collision with other vehicles and trees or utility poles.
Other than Collision Coverage. Provides coverage for out of the ordinary damages, such as fire, theft, flood or vandalism.
I know at this point you are thinking , " I already have enough insurance!"
Each home insurance policy will address the golf car situation differently so if you own a golf cart, please check in with us on your coverage! We'll let you know what is covered and what is not covered and you can decide if a golf cart policy is right for you.
Just renting a golf cart at a local golf course? Good news on this one. If the golf cart is not subject to motor vehicle registration and not owned by you, your home insurance policy would extend liability coverage for any damages you caused with the rented or borrowed golf cart.
Questions about golf carts and your liability? Just send us an email of give us a call. We would be happy to advise on your insuring options.
Contact Us:
info@herlihygroup.com
1.888.756.5159
Herlihy Group – Here to Help!