Our Airbnb Weekend Adventure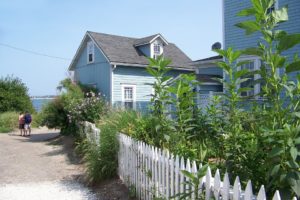 Spending the weekend at a friend's house is always a fun event to which we look forward to.
Spending the weekend at a stranger's house, now that is what I call an adventure. Our weekend Airbnb rental was very clean, quaint and conveniently located near our event.  Our host left us many directions which we tried to follow very carefully.
I think we did pretty well.
Being in the insurance world, I just find it fascinating that people rent their homes to strangers for just a few days.  I am really not certain where this lady went Friday- Sunday as we occupied her home. A few things I noticed about our host, she liked birds, collected all sorts of things, must be a gardener, a seam stress and does not drink coffee.
I am very curious is her insurance company knows that she rents her home on Airbnb to people like us!
If you do rent out your home for any amount of time, you definitely need to review this with your insurance company.  A home insurance policy is for a home owner occupied home and not a home with lots of paying visitors.  Homes that are rented out to others need specific insurance coverage for this exposure.
For most of us our home is one of our largest assets, so if you are going to be renting it out, just review your insurance coverage options.
If you keep us posted on your home uses, we can do our best to keep you covered!
Contact Us:
info@herlihygroup.com
1.888.756.5159
Herlihy Group – Here to Help!