Thinking of driving for Uber or Lyft? Review this GAP in your Car Insurance!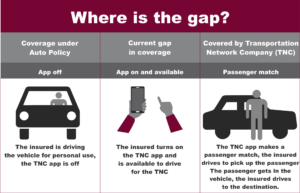 There is no question that these ride sharing services have become quite popular and can be very convenient.
At Herlihy Insurance we just wanted to share how your Massachusetts car insurance would respond if you were a DRIVER for one of these services.
There is a GAP in your coverage if you do not update your policy to reflect this use of your car in one of these operations. If you are going to be a driver, please check out when you can rely on your insurance coverage and when you need other insurance.
We think this simple picture graphic does a good job of outlining how this works!
Contact Us:
info@herlihygroup.com
1.888.756.5159
Herlihy Group – Here to Help!