Deductibles: When More is Less!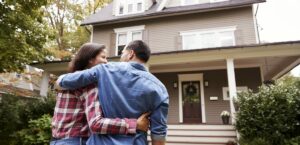 At Herlihy Insurance Group, we love new homeowners and sharing LOTS of good insurance info with them!
Most of us are so excited about the home itself, we are not paying much attention to the pile of application and paperwork we need to sign.
I had a great example of this when my niece recently emailed to say, "Hey, I need insurance — could you take care of that!?" Of course, I can and we will, but I fear she will have no interest in any material we share with her!
She just wants to get into her new house!
Back to my deductible comment! When we do review her home insurance options and coverage, we will take a moment to review the deductible option. A homeowners insurance deductible is the amount of money you will pay out of pocket before your insurance company will pay on the claim. You will choose your deductible amount when building your policy, but you will only pay a deductible if you file a claim.
This is when more is less!  The higher your deductible, the more you will save on your premium.
We invite all homeowners to take the More is Less deductible review.  Deductible options can range from $500 to $10,000.  Check out your options to see if you want More for Less!
Photo source: National Association of REALTORS©